Prosentials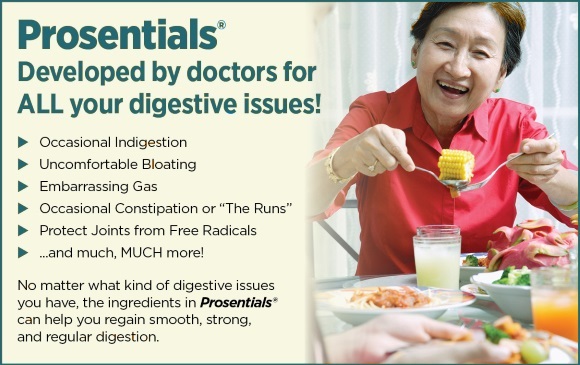 Just One Capsule of
 

Prosentials®

 

a Day
Helps Keep Colon Toxins at Bay
No Other Formula Can Compare!
Finally... Digestive Relief You Can Count On!
When it comes to probiotics, Prosentials® stands head and shoulders above the rest. It's scientifically formulated with seven essential probiotic strains – including superhero strain S. boulardii – to help you fight off the effects of toxic invasion in your gut. So you can finally find digestive relief.
Flush out toxins in the colon
Promote regularity of bowel movements
Supports a quiet gut and regularity
Support healthy immune function
Relieve stomach cramps and bloating
Assist digestion and absorption of nutrients
Plus, each capsule of Prosentials® gives you a total of 12.5 Billion Colony-Forming Units, or CFUs. That's as much as TEN TIMES the probiotics found in other brands!
You'd have to take one of each and every competing probiotic brand below – together – to equal the probiotic levels you get in a single Prosentials® capsule. However, you STILL wouldn't get any S. boulardii. Which is why Prosentials® is the clear choice for complete probiotic support!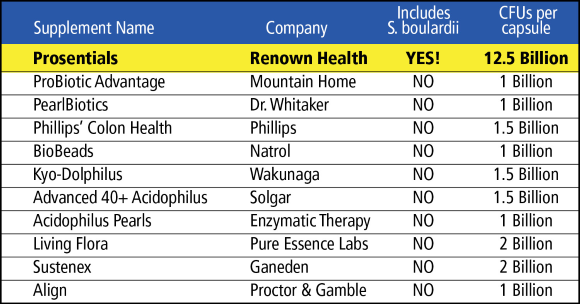 Nothing does a better job restoring
and balancing gut health!
If you want digestive relief you can count on, look no further than Prosentials®. It's the only formula that gives you 12.5 billion CFUs of seven powerful probiotics. And the only major brand that includes the probiotic powerhouse S. boulardii.
Best of all, Prosentials® is 100% RISK-FREE. Every bottle comes with a full 60-day Money Back Guarantee of Satisfaction. And when you try it today, you'll SAVE up to 39% off the regular price. Plus get up to 3 FREE health guides – a $59.85 value!
When it comes to supporting your digestive health, nothing even comes close to Prosentials®. Each capsule contains 12.5 billion CFUs of the seven most essential microbes your body needs, specially processed to withstand stomach acid. So you can enjoy fast and lasting relief!
Supplement Facts
Serving Size: 1 Capsule
Amount Per Serving
Saccharomyces boulardii (20 billion CFU/g)
125 mg*
Probiotic blend

 

Lactobacillus rhamnosus
Bifidobacterium bifidum
Bifidobacterium longum
Lactobacillus acidophilus
Lactobacillus casei
Streptococcus thermophilus

10 Billion CFU*
* Daily value not established.
Other ingredients: gelatin, inulin, magnesium stearate and silica.